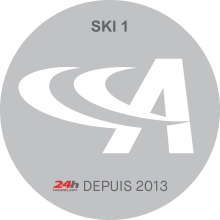 Acuity Brands - Ski 1
Ski on site
Team motivations:
Bonjour,
C'est en 2013 qu'une petite équipe de 8 collègues d'Eureka Lighting participe au 24H de Tremblant pour la première fois. Durant 24 heures consécutives, ils dévalent la piste « La Beauvallon » à relais malgré le froid, la noirceur et le vent. C'est avec les jambes endolories mais le sourire aux lèvres que nos pionniers ont transmis leur enthousiasme pour cet événement caritatif puisque l'engouement pour le 24h de Tremblant ne fait que croitre depuis. L'an dernier, c'est 37 participants de la grande famille d'Acuity Brands qui prennent le départ via 2 équipes de ski et 2 équipes de marche.
Participer au 24H, c'est affirmer son engagement envers la cause des enfants en collectant des dons au profit de trois fondations bénéficiaires : La fondation Charles-Bruneau, la fondation Tremblant et la fondation CHEO. Au fils des ans, nos équipes ont amassé la somme impressionnante de 122 171 $.
Le défi que relèvent jour après jour ces enfants malades ou avec des besoins particuliers a de quoi faire réfléchir. Notre défi à nous : 24 petites heures de dépassement, d'effort, de plaisir, le tout, pour une cause exceptionnelle.
En 2022, nous nous présenterons à la ligne de départ de ce défi sportif pour notre 10e participation consécutive. Soyez prêts : nous allons battre tous les records. Notre objectif de collecte est de 30 000$, dans le but de dépasser la barrière des 150 000$ de dons en 10 ans.
Nous faisons appel à votre générosité pour nous aider à atteindre notre objectif de collecte de dons qui se traduit, ultimement, par un objectif de soutien aux enfants.
Merci beaucoup !
L'équipe d'Acuity Brands
=======================================================
Hello,
In 2013, a small team of 8 colleagues from Eureka Lighting participated in the 24H of Tremblant for the first time. For 24 consecutive hours, they raced down the "La Beauvallon" slope in relays despite the cold, the darkness and the wind. With sore legs but a smile on their faces, our pioneers passed on their enthusiasm for this charity event. Since then, the craze for the 24h of Tremblant has only grown. Last year, 37 participants from the Acuity Brands family took part in the event with 2 ski teams and 2 walking teams.
Participating in the 24H is a way of affirming our commitment to the cause of children by collecting donations for the benefit of three beneficiary foundations: The Charles-Bruneau Foundation, the Tremblant Foundation and the CHEO Foundation. Over the years, our teams have raised an impressive $122,171. The challenge that these sick and special needs children face every day is sobering. The challenge: 24 short hours of surpassing ourselves, of effort, of pleasure, all for an exceptional cause.
In 2022, we will be participating at the starting line of this sporting challenge for our 10th consecutive time. Be ready: we will break all records. Our fundraising goal is $30,000, with the goal of surpassing the $150,000 barrier in donations within 10 years.
We are calling on your generosity to help us reach our goal of collecting donations to help support children.
Thank you so much!
The Acuity Brands team
Team captain:
Marc-André Couture
100 %
of objective achieved
Recent Donations

Frédérick Dusablon - $20.00


Geneviève Leblanc - $25.00

100 %
of objective achieved
Recent Donations

Frédérick Dusablon - $20.00


Geneviève Leblanc - $25.00