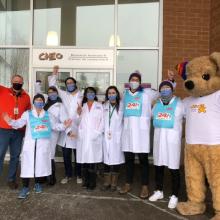 CHEO Researchers on the Run
Remote walk
Team motivations:
In a year that has been anything but normal, staff of the CHEO Research Institute are excited to participate in the 24h as a declaration of support for children's causes and our commitment to help support CHEO.
Most of us cannot really imagine the challenges these children face – be it a dealing with a disease or special needs – every day of their lives. Our challenge pales in comparison: just 24 short hours of effort and fun… all for a wonderful cause.  Our team, CHEO Researchers on the Run, will be running/walking around the CHEO campus for 24 hours.  Last year was so much fun we all wanted to do it again this year!
We appeal to your generosity to help us reach our fundraising goal, which ultimately translates into a goal of support to children.
You can do your part! Even the smallest donation will fill you with the feeling of having done something to make a difference in the lives of these children.
50 %
of objective achieved
Recent Donations


Anne-Marie Dionne - $100.00



50 %
of objective achieved
Recent Donations


Anne-Marie Dionne - $100.00